Delicious Frozen Fruit: Vitamins for Health and Taste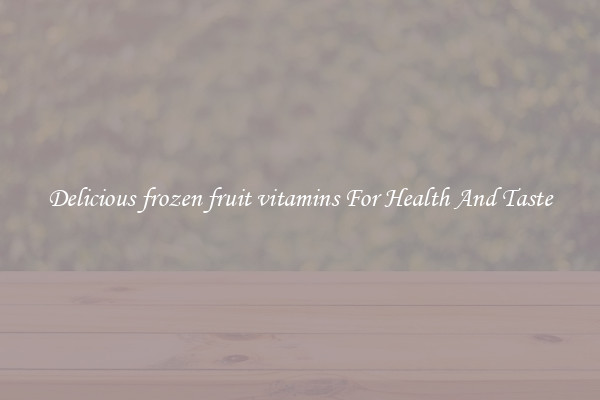 When it comes to health and taste, one food group that often gets overlooked is frozen fruit. These vibrant and flavorful gems not only pack a punch of essential vitamins and nutrients, but they also offer a delicious and convenient option for those seeking a healthy snack or addition to any meal.
One of the main benefits of frozen fruit is its high vitamin content. Fruits like berries, mangoes, pineapples, and peaches are rich in vitamins A and C, which are essential for a strong immune system and overall good health. These vitamins are powerful antioxidants that help protect our cells from damage, boost collagen production for healthy skin, and promote the growth and repair of tissues throughout our body.
Moreover, frozen fruit also retains its vitamins and nutrients due to the quick freezing process. Unlike canned fruit, which can lose some of its nutritional value during processing, freezing fruit allows it to retain its vitamins and minerals, maintaining its nutritional integrity. This means that even if fruit is not available fresh, you can still get a substantial amount of vitamins by consuming its frozen counterpart.
Additionally, frozen fruit can be a great alternative when certain fruits are out of season. With the convenience of frozen fruit, you can enjoy your favorite fruits year-round, even during the winter months. This can be especially beneficial for those living in areas where fresh produce is not readily available, allowing them to have access to important vitamins and nutrients regardless of the season.
Beyond the health benefits, frozen fruit also offers a burst of natural sweetness. Frozen berries, for example, can be the perfect addition to your morning smoothie or a delightful topping for yogurt or oatmeal. They can even be used in baking and dessert recipes, adding a delicious and nutritious twist. By incorporating frozen fruit into your diet, you can satisfy your sweet tooth while still nourishing your body with essential vitamins.
In conclusion, frozen fruit is a convenient and delicious way to enjoy a variety of essential vitamins and nutrients. Whether it's for breakfast, snacks, or dessert, these frozen gems offer a burst of flavor and health benefits all year round. So, next time you're in the freezer section at the grocery store, don't bypass the frozen fruit aisle. Grab a bag of your favorite fruits and indulge in their vitamins for both your health and taste buds.